Enchantimals Patter Peacock Dress Up Game game
Follow us on Facebook and Youtube: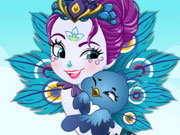 Description: Enchantimals Patter Peacock Dress Up Game
A group of lovely girlfriends and their animals from EnchanTimals have a special connection with their favorite animals and have much in common with them. The creation of these cute and girls live in a fantasy world full of fun, adventure, and pleasant moments. Girls and their Pets make the world happier, nicer, and warmer. Petter Peacock is very proud of his animals and I'm glad she has one. She encourages her friends also to enjoy life and appreciate what they are. The girl loves to communicate, but when she gets nervous, she begins to sing. Sure, she's not a good voice, but her pet Flap helps her make her song pleasant to the ear and fun.
In this game of dressing, you can pick up magical friends and their animal's great outfits and beautiful jewelry. Use the mouse to do this and get a great charge of vivacity and then. I think after this game you will play in one of the
cheerleading games
on our website.
Played: 46629. Added: 23-06-2017, 08:30.
Play other games from this developer:
StarSue.net
. Categories:
Dress Up