Frozen Annas Laundry game
Follow us on Facebook and Youtube: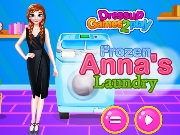 Description: Frozen Annas Laundry
Princess Anna frozen has accumulated a lot of dirty clothes. And what to do with it? Of course you need to do the Laundry. But Princess Anna isn't in the mood to deal with this and wish you helped her. Will you do it? Anna will be very grateful to you. If you agree, we first divide the clothes into white and colored. Then take it to the washing machine. After washing it should be dry and fold. A lot of work. Can you handle it?
How to play:
help the Princess Anna to wash her underwear. Use the mouse and hints in the game to Anna linen was clean. After washing, do not forget to use the dryer, then iron with an iron.