Dress up with Casta Fierce game
Follow us on Facebook and Youtube: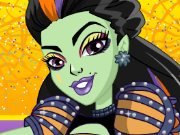 Description: Dress up with Casta Fierce
A new student appeared In Monster High School. Her name is Casta Fierce and she is a good singer. She is the daughter of Cierce, the goddess of magic. This is a very impatient girl. She does not like to be upset and because of it she does not want to get a pet, because Casta is very hot-tempered and it is not likely to be able to give a lot of warmth and tenderness to the pet.
To play this dress up game you need to click with the mouse on the buttons with sections of hairstyles, dresses and outfits, and then drag them to the girl.
Played: 58500. Added: 21-05-2015, 17:56.
Play other games from this developer:
StarSue.net
. Categories:
Monster high