Girl on the beach game
Follow us on Facebook and Youtube: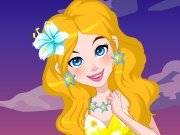 Description: Girl on the beach
Do you like relaxing on the beach under the night sky full of bright and beautiful stars? Nastya has finally passed the exams and went with to the sea with her parents! She loves to swim in the sea, sunbathe and relax after a hot day on the beach. It is so nice to listen to the sound of waves and watch the beautiful ships sailing in the distance under the bright stars.
In this game you can help Nastya to pick up light dress for walking, as well as hair, jewelry and shoes. What you got at the end?