Anime Jigsaw Puzzles game
Follow us on Facebook and Youtube: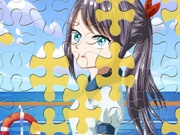 Description: Anime Jigsaw Puzzles
If you love anime and puzzles, then this game will give you a lot of fun in one piece. I personally love both genres of games and therefore I enjoyed playing this game and I can tell you that it was a very pleasant time to play this game. Here you will find six different anime pictures to be assembled from dozens of puzzles. The game has no time limit or attempts to create a complete picture, which means you will not rush or worry about making a mistake.
How to play: move the pieces of the puzzle to the desired place in the picture to complete the picture.