Girls morning routine game
Follow us on Facebook and Youtube: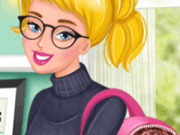 Description: Girls morning routine
This girl is very punctual and always comes to school on time. But few people know how she manages to do this and how she spends her morning. In this game, Ellie is going to school, you will learn how this beauty spends the first hour after waking up. Believe me, she manages to do a lot. Ellie wakes up at seven in the morning. Next comes the bathroom to brush your teeth, wash and make your face fresh and pleasant. After that, she puts on a light
make-up
and then deals with the choice of clothes for school.