Shaggy the sleepwalker game
Follow us on Facebook and Youtube: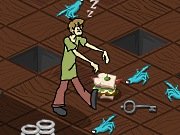 Description: Shaggy the sleepwalker
During the one exciting adventure funny dog Scooby-Doo and his best friends the unexpected thing happened. Vampires cursed Scooby-Doo's best friend Shaggy. They turned him into a sleepwalker, every night he wakes up and wanders around the room in search of secret doors. Help Shaggy to remove curse.
How to play online game for girls " Shaggy the Sleepwalker":
Play with the mouse. Shaggy have to take the key to the secret room. On the Bottom left of the screen there are vampire's hands that have to be put on the Shaggy's way, matching the direction of his motion, so that he could take the key, and then go to the secret room. Place the vampire's hands, and then press the «start», and see what happens.
Good luck!
Played: 76041. Added: 20-05-2011, 23:54.. Categories:
Scooby doo