Find the fish game
Follow us on Facebook and Youtube: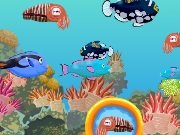 Description: Find the fish
Do you have a home aquarium? You probably already know these fishes. And have you seen how many beautiful and unusual fishes are floating on the ocean floor? Here in this game, there is just a lot of fish that you're unlikely to see even in the movies. These outlandish creatures are peacefully floating on the ocean floor and enjoy the clean waters. The meaning of the game is to find a fish that is shown in the circle at the bottom and click with the mouse on the same floating fish in the game. The fewer mistakes you make and the more right fish you click correctly, the more points you earn.
And how many points have you earned?