Fashionable walk game
Follow us on Facebook and Youtube: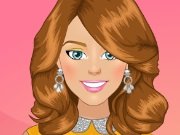 Description: Fashionable walk
We girls always want to look great. And what can we say about a walk in the park or in the city? How can you not put on your beautiful fashionable hat or a new suit? This beauty also thinks what to wear for autumn walk. Could you help her with this? To begin first decide what hairstyle and jewelry suit better for the head, and then pick clothes for her.
In this dressing up game you can save the picture and show it to your friends, or even post in the comments for the game.
Played: 102636. Added: 29-06-2014, 16:53.
Play other games from this developer:
GirlsW.com
. Categories:
Fashion