Play other quizzes games:
Which fairy are you today? game
Do you like FunGirlsGames.net?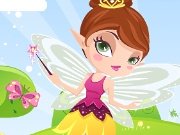 About game:
Do you like fairies? It is said that people used to be similar to fairies. Maybe a distant relative of yours was a fairy of music or sleeping?
How to pass the test:
choose the picture in the game-test, and you will know which fairy are you today. You can take the test every day and watch as you change if you were a real fairy!
Played: 15516. Added: 23-06-2012, 23:06.