Play other puzzle games:
The Little Pony Puzzle game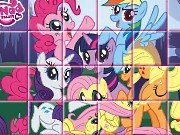 About The Little Pony Puzzle game:
World of small ponies is so interesting. It is inhabited by very nice pony, their luxurious manes are so fabulous and they fascinate with their beauty. This is a great online game takes you to these magical creatures.
How to play the online game "The Little Pony Puzzle"
There is picture of small pony, consisting of many small pieces, in front of you . These fragments of images are reversed. To compile a complete picture, you need to rotate the pieces. To do this Click on it with the mouse, until they will reach the right position. There is the strawberry on the bottom of the screen, move your mouse to it and you can see what the picture has to be like. The game has multiple levels.
Good luck!
Played: 8208. Added: 5-04-2011, 02:55.