Play other logical games:
Find the toys game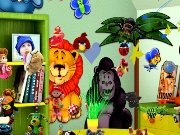 About Find the toys game:
In this room there are so many toys that are so hard to find. Do you think it is easy to find what you need if you want to play with a toy? Try to understand quickly and find what you need in the game.
How to play:
Look what toys you have to find and click on it with the mouse. For the correct answer you get 250 points and -50 points for the mistake.
Played: 6003. Added: 25-05-2012, 11:21.