Play other logical games:
Snow White and a chocolate game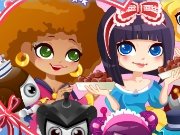 About Snow White and a chocolate game:
You know the tale about Snow White and the seven dwarfs? And this is the story ofSnow White and her stepmother. They love to make chocolate, and her stepmother is trying to compete with her.
How to play:
Find the differences on the pictures to learn the story. If you are confused and do not know see differences on the pictures, then click on the magnifying glass. It takes you 10 points, but you get 100 for the found difference!
Played: 5652. Added: 8-05-2012, 17:23.