Play other barbie games:
Barbie the Princess game
Do you like FunGirlsGames.net?
Share this game with your friends → ←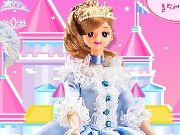 About game:
Every girl dreams of her beloved prince from a distant kingdom that would come to heron a wonderful white horse and take her with him. Dream of the heroine of our great online game for girls has recently come true. Our Barbie is now living in the great palace together with prince. Today, a grand ball in her honor is waiting for her. For this important occasion, she should lookincredibly beautiful. Therefore, she has to choose a dress that she will put on for the ball tonight. Help her to choose the dress.
How to play the game "Barbie the Princess":
You can choose the ball dress, jewelry and hairstyles for Barbie. To do this, simplydrag it all with the mouse.
Played: 31212. Added: 1-09-2011, 16:15.