Play other animal games:
Fashionable albatross game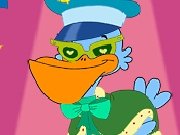 About Fashionable albatross game:
This bird looks so proud and independent. And how fun is to dress up him like a captain ora fairy?
How to play:
Click on clothes to dress albatross. Try different options and dress him up as captain, fairy from a tale, or even elegant king. Try on slippers to give him a home look.
Played: 5166. Added: 3-02-2012, 20:13.