Play other animal games:
Falling panda game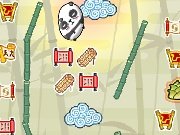 About Falling panda game:
Friends of panda Lo are kidnapped. Therefore, he must quickly learn kung fu to release friends. To do this he must find all the rolls with the knowledge.
How to play:
There is a long journey in front of him during which he will collect the scrolls and learn kung fu. Click with the mouse to release the panda into a bamboo. He has to fall into a bamboo tube. Each tube is numbered with the digits which will multiply your score. Clouds will interrupt you. Wait until they sail past and throw the panda.
Collect a bag full of rolls to pass the whole level.
Sometimes you will meet a cat. Shoot it so that you could collect your rolls with the mouse while running away for 30 seconds.
Played: 5382. Added: 31-01-2012, 18:46.